From makeshift paper towel face masks to underwear face masks, if you've searched how to make a COVID19 face mask online, you've likely seen them all. While there are many DIY face mask patterns that are pretty simple to make at home, Dr. Westman tells us how to make a homemade Coronavirus face mask that's reusable and even a novice can make.
Avoid using N95 face masks
First of all, it's really important not to interfere with the supply of medical-grade masks to our health care providers and those who are in need of that kind of protection. These masks are called N95 masks and are in short supply so you'll need to avoid using them. Basic hospital masks or operating masks that many of us are familiar with, have an accordion shape created by their pleats, while the N95 masks have a flat design and are not accordion-shaped. However, it really doesn't matter which shape you use, if you can figure out how to make the accordion, that's great, but the straight pleatless design is far simpler to make.
If you're experienced at sewing, you'll probably be able to figure it out by yourself, but hopefully, this article will inform you about your options.
Easy face masks you can make in a pinch
Paper towel face mask: Using a bandana, handkerchief, or even a paper towel, you can learn how to do an accordion fold or a pleat and make your own mask. If you can't sew or are in a pinch, you can simply staple a rubber band at the end of a paper towel that you've pleated. It's not a very durable type of mask, but it gets the job done.
Old West bandit face mask: If you have an old t-shirt you're willing to sacrifice, cut it from one underarm all the way across to the other underarm. Then you'll make your "handles", cut up from your sleeve hem, you can make your cut-out a diamond shape which will become efficient handles. Simply put it around your face and fasten the "handles" at the back of your head. You may end up looking like a bandit from the Old West, but it's quick, simple, and gets the job done.
How to make a homemade fabric face mask at home
The more complicated the DIY face mask patterns get, the more time it's going to take to make, but it's worth it.
The next one is a simple face mask template that's completely symmetrical, you could free-hand this basic design on some scrap fabric, so there's no upside or downside, and you'll need to cut 4 of pieces of fabric in this shape as it is double-layered. Don't be intimidated, you can do this even if you have below-average sewing skills on a sewing machine.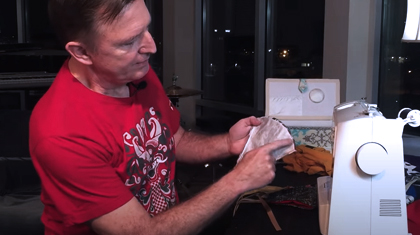 Take 2 pieces of the cloth that you've cut out, these will make your outer layer of your mask, put their right sides (or patterned sides) facing towards each other. Join them by running a stitch on the edge of the nose seam (the most convex part of the pattern piece). Do the same to the other 2 pieces that you've cut out for your inner layer.
Open them up and place right sides together. You'll then need to run a stitch along the top from ear to ear, and along the bottom from ear to ear pull it, leaving the side seams open.
Put your hand in one of the open sides and pull it right-side-out. Tuck in or iron in the raw edges on the sides, placing your "ties" in the seam and secure them in place. You can use elastic or bias tape, or you could even make your own bias tape from scraps of fabric. Stitch the sides closed. If you do a neat job and use good fabric, you can have a really attractive face mask. When you make your own Coronvirus face mask, remember that double stitch lines are best as they make the seam stronger, preventing breakage when you wash them.
Which pattern and fabric should you use for DIY face masks?
You can use a pleated design or the face shield design. In terms of fabrics, there's a study going around that compared surgical masks, N95 masks, and also looked at masks with two layers of cotton placed together. However, no matter what fabric you choose, wearing a mask is better than wearing nothing. "There's a study that says the fabric masks can cause harm, I reviewed that study, it has nothing to do with the prevention of transmission of disease in the public, it was a Hospital study, so ignore that," advises Dr. Westman. There is evidence that face masks work to reduce viral transmission.
Why you should make your own Coronavirus face mask
It's important that you make your own masks or find someone else who can do it for you. Places that the virus started in were the same places where most of the masks in China are made, and the U.S typically received face mask supplies from China, so it's essential that you make your own. It's important to remember that by making your own Coronavirus face mask, you prevent interference with the supply for the hospitals and the first responders.
There is still a social stigma about wearing face masks, but it's important to remember that you're protecting yourself, and other people wearing the mask are protecting themselves, and you're also protecting other people. Wearing any kind of barrier over the nose and mouth, whether it's a bandana or a handkerchief, reduces transmission.
How to clean or sanitize your homemade face mask
Studies show that you can clean your fabric face mask in hot water in the washing machine and it could be helpful, but it's not a reliable way to kill the virus. The best way to kill the virus on your face mask is to steam iron or microwave it, these are outlined in the CDC manual for cleaning supplies.
It's clear to see that the protocols we've learned during the COVID19 pandemic are likely to be with us in the longterm and throughout the coming flu seasons, so it's a good idea to practice making your own reusable masks, wear them, and stay safe.